DIY Halloween Mashup – Printables & Crafty Ideas
Posted by OnlineLabels.com on October 6, 2014

---
Spooktacular Halloween Ideas
We're ready for Halloween, how about you?  We've got a spooktacular mashup of different Halloween party ideas and printables for you to use and share with your friends.   Featured below are a bunch of free templates and printables from the best designers around the web.
 Halloween Water Bottle Labels + Free Printable
Printable Halloween Themed Water Bottle Labels.  These labels are perfect for sticking to multiple bottle sizes including 8 oz and 16.9oz water bottles.
Click on the image below to download the water bottle label printable.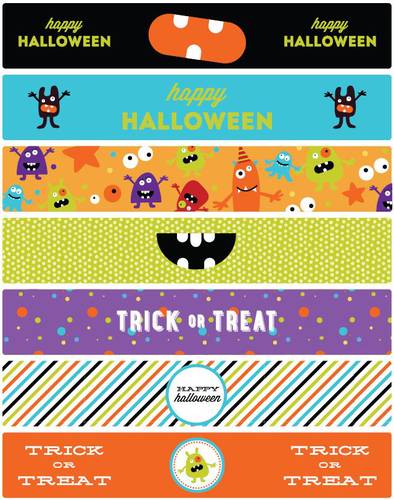 Cute Hershey Mini Chocolate Bar Printable Labels
Printable Monster Mash Mini Chocolate Bar Labels stick these cute labels to your favorite Hershey miniature chocolate bars.
Click on the image below to download the mini candy bar label printable.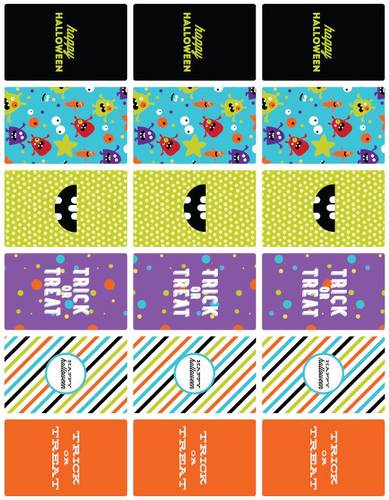 Lollipop Label Flags
Turn your standard lollipops into cute Halloween favors with these free "Happy Halloween" printable labels.
Click on the image below to download the lollipop label printable.

 Have A Ball On Halloween
This cute collection of Halloween themed Ball jar labels brought to you by Malia at Yesterday On Tuesday and our friends at Printabelle.  This collection features a mini banner, bats, to: & from: invitations, and round jar lid labels.  You can print these designs on full sheet labels and stick them or on cardstock material.  Use them for parties, decor, crafts and gift giving.  Click on the image below to find all of these great Halloween printables.