Free Pregnancy/Baby Growth Progress Labels & More!
Posted by OnlineLabels.com on September 17, 2014
---
Get Ready To Be The Best Mom & Dad Ever
If you have a bun in the oven or just had a little munchkin, we've created a list of great resources for you.  In this post we have everything from free printable labels that come in a cute necktie shape or circular shape that works great for sticking to your bump or baby so you can photo document growth.  In addition we've included some great ways you can use a variety of labels to get organized and keep track of your childs property at daycare.
Baby Boy Necktie Growth Progress Sticker Labels
Print these cute decorative neckties in your laser or inkjet printer and print on full sheet labels.  Once you print the labels just cut with your favorite scissors or an X-ACTO knife then stick the labels onto your little guys shirt, onesie or bib.   These label designs are also a cute way to do a gender reveal, all you do is pick the month and stick it to your baby bump.  Now snap a shot and post it for the world to see your favorite social network.   Click on the images below to download these FREE printable templates.
Round Unisex Baby & Baby Bump Growth Progress Sticker Labels
Print these cute 3 inch circle monthly progress labels in your printer. Peel and stick them to your baby bump or little one's shirt, dress, or onesie.  Click on the images below to download the PDF file for FREE!
Be Creative & Get Organized
From waterproof Sippy Cup Labels to Baby Closet Dividers, our customers are finding amazing ways to stay organized with their new little ones.  Here is a quick photo roundup of what you can find in the baby area of Customer Creations section.
Baby's Closet Clothing Dividers
Organize your baby's closet with clothing dividers and personalized labels.  Print your design on our clothing divider labels.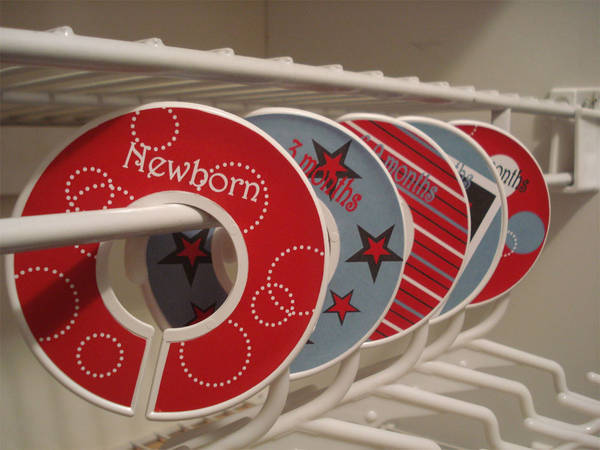 Sippy Cup Labels
With every order you get free access to our label templates and design software Maestro Label Designer.  Just add your childs name and a cute graphic to create personalized sippy cup labels.  We suggest using our one of our weatherproof label materials for label longevity.

Baby Shower Water Bottle Labels
Are you hosting a baby shower?  If so, a popular trend is to make personalized water bottle labels.  Chances are you'll be serving water at your shower so why not dress it up with a cute label, we guarantee your guests will be impressed.  If you're not sure what to do get inspired and take a look at more water bottle labels created by our customers in our Customer Creation section.  Browse our different water bottle label sizes here, so you can start your own creation.
Baby Coke Bottles with Labels
If you love drinking Coke and want to serve it at your shower, some grocers sell miniature sized "baby" bottles.  It's easy to personalize these bottles, all you need is a label template from our site and we suggest using a waterproof label material when you print so the writing won't bleed or smear when the labels get wet.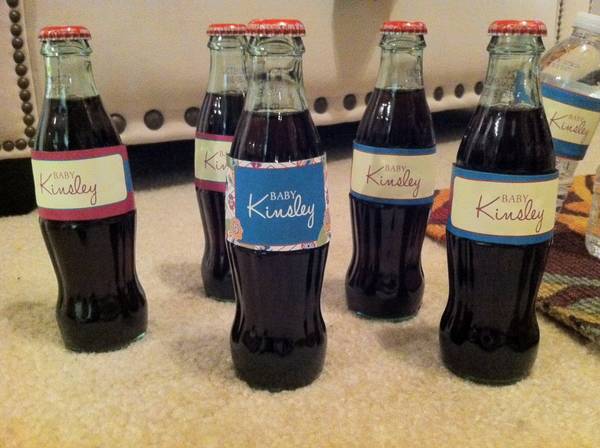 Baby Shower Take Home Favors
Everyone loves to get showered with gifts, so give a gift to your friends that attend your shower.  The gift can be anything, below we feature some cute honey jars with personalized labels.  The next time you see anything cute think about sticking a personalized label on it as a thoughtful gift.