April Showers Bring May Flower Printables
Posted by OnlineLabels.com on May 21, 2014
---
Fun & Free Spring Flower Printables
Posted By: Matt Hamilton
There is nothing like the beauty of spring with flowers blooming, birds chirping and bees buzzing.  With all of Mother Earth's natural inspiration, our friend Michelle at Printabelle designed some beautiful daisy flower inspired printables for everyone to share.  Below we have suggested uses for each printable but don't stop there because you can label just about anything.  Once you download the PDF file just put your adhesive label sheets into the printer and print till your heart's content.
Peanut Butter Cup or Chocolate Kiss Printable
This cute printable fits on the top of peanut butter cups or on the bottom of chocolate kisses.  This design was made to be printed on our .75 inch round labels.
Click on the image below to download the .75 inch round daisy labels printable.
Mini Chocolate Bar Labels
These spring daisy labels fit Hershey Miniature chocolate bars.  Super cute but you better eat them before they melt.  The PDF printable below was made for our 2.5″ 1.563″ rectangle labels.
 Click on the image below to download the mini chocolate bar printable.
Tic Tacs Mints Make Great Flower Seeds
This is a really cute printable that works for the standard size Tic Tac flip top mint box.   Turn your mints into little flower seeds 🙂
Click on the image below to download the flower seeds mint box label printable.
Spring Water Bottle Labels
With this refreshing water bottle label printable you can label just about any size water bottle.   This printable was designed to work with best with the 8.1875″ x 1.375″ labels that work great on most standard 16.9 oz and 8 oz water bottles.
Click on the image below to download the spring water label printable.
Spring Flower Lip Balm Labels
Convert your chapstick or lip balm tube into a lip-smacking cute party favor.  Print this design on our 2.625″ x 1.6875″ lip balm labels, then just peel and stick to your favorite flavor.
Click on the image below to download the lip balm label printable.
2 inch Round Printable Flowers
These 2″ round label printables if printed on our 8.5″ x 11″ card stock material make great hang tags or print them on our 2″ circle label sheets and stick them to anything.
Download this 2″ circle printable by clicking on the image below.

Spring Inspired Freebies & Ideas
Hello Spring Picture by Sandy Toes and Popsicles (Perfect for your favorite picture frame)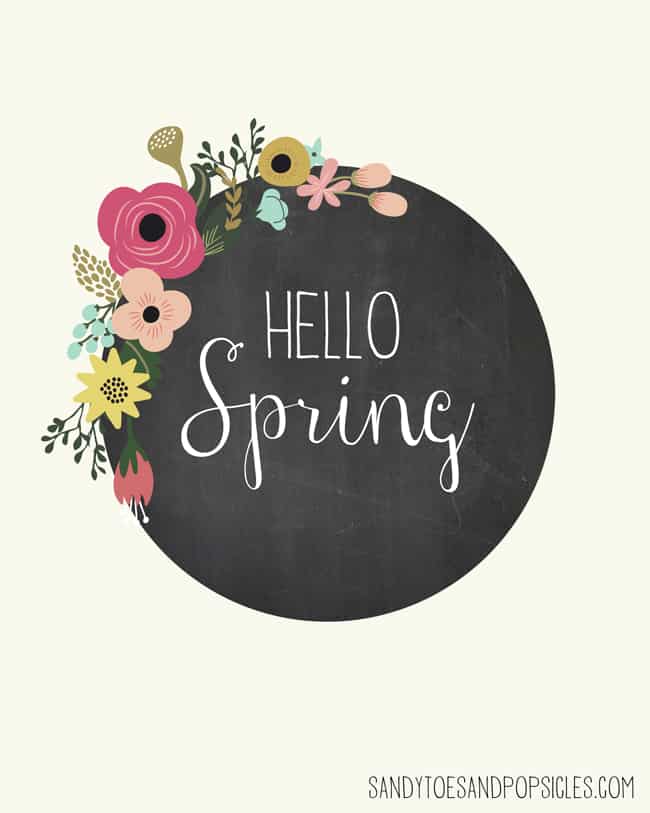 Free spring printable party banner featured on I Heart Naptime designed by Sugar Tot Designs.
Spring Themed Printable By The 36th Avenue